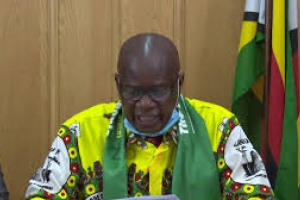 28 July 2020
PRESS RELEASE
RE: Chinamasa must withdraw his statements against ZCTU
The Zimbabwe Congress of Trade Unions (ZCTU) notes with concern utterances and labelling of the ZCTU by the Zanu PF Acting Secretary for Information and Publicity Patrick Chinamasa as 'a terrorist organisation' as misplaced bordering on over zealousness and dangerous.
The utterances reminds us of the past when progressive forces were labeled 'communist ' in order for the government then to attack them and this is what we are witnessing at the moment.
The ZCTU is a bona fide trade union organisation and this uncalled for designation should be condemned in the strongest terms. We call on Chinamasa to withdraw his statements which are meant to put the name of the ZCTU into disrepute.
The Zanu PF regime has dismally failed to live to the expectation of Zimbabweans in terms of resuscitating the economy and is now looking for scapegoats.
We also note that the Zimbabwe Republic Police has put the ZCTU President Peter Mutasa on "a wanted persons" list. We strongly object to criminalisation of trade unionism.
We are not apologetic about our work and no amount of intimidation would deter us from executing our mandate.
As for ZCTU our demand for USD salaries and petitions is within our constitutional mandate and Zimbabwean laws. The constitution allows us to demonstrate and petition and that is what we would be doing whether ZANU PF approves of it or not.
Japhet Moyo
SECRETARY GENERAL