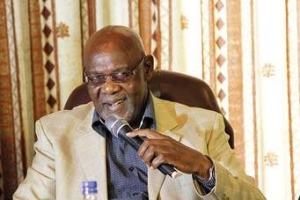 ZCTU CONDOLENCE MESSAGE
           RE: ZCTU MOURNS DUMISO DABENGWA
The Zimbabwe Congress of Trade Unions (ZCTU) has learnt with deep shock news of the passing on of theZimbabwe African People's Union (ZAPU)  President Dumiso Dabengwa in Kenya on his way from India where he was receiving treatment.
The passing on Dabengwa, a former Minister of Home Affairs, is a huge loss to the people of Zimbabwe who have lost a sober minded liberator, a campaigner of peace and an icon of our liberation struggle and independence. A former intelligence chief of the Zimbabwe People's Revolutionary Party (ZIPRA) during the war for independence in the 1970s, Dabengwa played a pivotal role in the signing of the 1987 Unity Accord that ended the Gukurahundi disturbances in parts of Matabeleland and Midlands.
Dabengwa who shall forever be remembered as an ambassador of peace and a unifier will be sadly missed by Zimbabweans of all walks of life. His immense contribution to the country shall forever be cherished. A giant and a National Hero has fallen.
Our thoughts are with his family and all Zimbabweans during this dark moment.
MAY HIS SOUL REST IN ETERNAL PEACE
Japhet Moyo
SECRETARY-GENERAL
23 May 2019