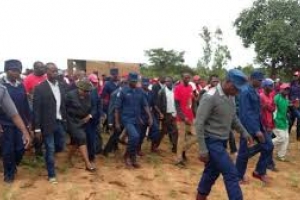 The Zimbabwe Congress of Trade Unions (ZCTU) is deeply concerned with the resurgence in intra-party violence in the opposition political party MDC-T.
In the latest development, MDC-T Vice-President Thokozani Khupe and Secretary General, Douglas Mwonzora, were harassed and threatened at the burial of MDC-T leader Morgan Tsvangirai in Buhera.
This is not the first time violence has reared its ugly head in the party. In August 2017, the MDC-T Vice-President Thokozani Khupe, Chairperson Lovemore Moyo and Organising secretary, Abedinico Bhebhe were beaten up allegedly by party fanatics for organizing a meeting to discuss the coalition arrangement being led by the party President Morgan Tsvangirai. The trio was alleged to be against an alliance with other political parties.
We reiterate that violence can never be a means to solve disputes. What is more disappointing is that Zimbabweans look up to the opposition MDC-T to lead by example by being tolerant to divergence views in its ranks. Violence from any political party must be condemned in the strongest terms.
The MDC-T leadership must move in swiftly to investigate people who have the penchant for violence in the party without fear or favour and those involved in the current mayhem must face the music.
Japhet Moyo
SECRETARY GENERAL