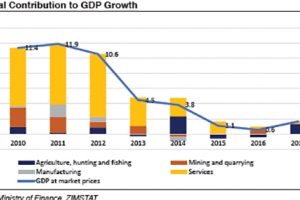 The Zimbabwe Congress of Trade Unions (ZCTU) is deeply concerned with deteriorating state of the country's economy that has seen inflation galloping to over 30 percent causing serious suffering among Zimbabweans.
Since the announcement of both fiscal and monetary policies by authorities in October and November 2018, the plight of Zimbabweans continues to worsen. The new measures, instead of solving the economic crisis that the country faces, increased taxation and failed to end crisis like the shortage of cash.
Of great concern to the ZCTU is the shocking massive price hikes that have affected almost every basic commodity, worsening the plight of the already struggling masses of Zimbabwe. Prices of most products have gone up three fold and the prices continue to rise at break-neck speed and this has seriously eroded the incomes of ordinary workers who are finding it hard to survive on their meager wages. Labour notes that most workers earn an average of $300 a month and therefore cannot afford to buy the goods in most shops.
Unscrupulous retailers are using the three-tier pricing system to swindle consumers while authorities just stand by without taking action. There are prices of those who use the United State Dollar, the bond note and those who use electronic transfers. In most cases those who use the electronic transfers are made to pay through the nose.
Indeed if this is what is called "open for business" then Zimbabweans are in for a torrid time.
Zimbabwe is at a crossroads. The country is facing multi-faced challenges ranging from infrastructure deficits, in particular transport, energy and water to the scourge of corruption in both the public and private sectors. In the public sector, the Auditor General has detailed rampant corruption and inefficiencies across Government Ministries, Departments and Agencies but no action has been taken.
The deteriorating and unstable macro-economic environment has had a serious impact on workers and their quest for decent work. Decent work means productive work which is undertaken in conditions of freedom, equality, security and human dignity for both men and women. The right to decent work in Zimbabwe is protected under the Constitution. Section 65 (1) says: Every person has the right to fair and safe labour practices and standards and to be paid a fair and reasonable wage. Section 65 (4) says: Every employee is entitled to just, equitable and satisfactory conditions of work.
Decent work is also now part of the Sustainable Development Goals. Goal Number 8 aims to "promote sustained inclusive and sustainable economic growth full and productive employment and decent work for all".
The following is the state of decent work in Zimbabwe that needs serious attention of the government:
1. Massive job losses due to poor macro-economic performance which has resulted in deindustrialisation and consequently informalisation.
2. There is high levels of under-employment - abundant labour which is not being productively utilised.
3. Arbitral dismissal of workers
4. Labour market flexibility measures as more workers have become precarious workers.
5. Non-payment of wages and salaries by some companies. Some employers sometimes deliberately ignore directives from the National Employment Councils (NECs)
6. Repressive and draconic legislation such as the Public Order and Security Act (POSA) and the Criminal Codification Act still remain.
7. Pension pay-outs are very paltry with a minimum of about US$60 /month versus a Poverty datum Line (PDL) of almost US$500
The government has a responsibility to protect the vulnerable when the market fails to regulate itself. The ZCTU reiterates its earlier demand for a 50 percent upward review of wages and salaries across the board to compensate for the price increases of basic commodities.
The ZCTU has started a process of consultation with all its structures on the way forward. So far, the consensus building up is that workers are prepared for action, peaceful protests early in 2019. This action is not for workers only this is why we are organising the communities because they are also suffering.
We are also calling on the other likeminded organisations and people to join us. This is a fight by Zimbabwe against suffering. The government must listen to its citizens and if not, the ZCTU is prepared to take leadership in the fight against poverty.
Japhet Moyo
SECRETARY-GENERAL