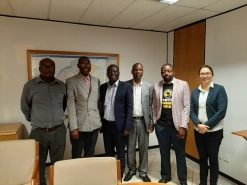 Your attention is drawn to our communication of 25 October 2018 and updates submitted by the International Trade Union Confederation (ITUC) dated the 17th of January 2019.
We would like to add the following information for your consideration
On 14-16 January 2019 during the ZCTU organised protest action against rising cost of living including fuel increases. The ZCTU Secretary General Mr Japhet Moyo and President Mr Peter Mutasa were arrested on 21 and 26 January respectively and jailed for two weeks only to gain their freedom through a court order coupled with strict bail conditions that included reporting to police daily and twice a week for Mr Mutasa. The conditions have now been varied to once a month after surrendering title deeds of ZCTU property and personal property for Mr Mutasa as surety.
The trade union leaders and civic leaders are being charged under section 22 (2) (a) (iii) of the Criminal Law (Codification and Reform) Act Chapter 9.23 for subverting constitutional government or alternatively inciting public violence under section 36 (1) (a) of the same Act. They face a 20 year jail term if convicted.
It is the State's case that it is criminal to call for a peaceful protest action against government policy even if such policy has direct capability to injure the economic and social rights and wellbeing of the people. The ZCTU leaders are subjected to long court processes that amount to leashing workers leaders, violating the right to free movement both internal and abroad. It is now 8 months and no trial date has been set save for unending court appearances and now the matter has been postponed to 2 October 2019. The Magistrate's court refused to remove the ZCTU leaders from remand despite several court applications.
Kindly note that section 59 of the constitution of Zimbabwe guarantees the right to freedom to demonstrate and petition but government is acting contrary to the provision.
The government justifies its attack on trade unionists alleging that the protest was violent and goods were looted. To the contrary, it was the security forces that responded violently to the protests by attacking protesters. Besides, the ZCTU had informed them of the planned protest and the rules of managing protest suggest that security forces take adequate measures to protect protesters and properties. However, the security forces simply rained brutal force on legitimate protesters under the pretext that the protest was used to perpetrate looting.
During the protest period, the government denied us the right to information as it disconnected internet services and social media access in an attempt to hide the atrocities perpetrated against the protestors by security forces that followed people into their homes and brutalised them and some women were reportedly raped. These findings were validated by the Zimbabwe Human Rights Commission (ZHRC) a constitutional body that observed that 'uniformed members of the Zimbabwe National Army and the Zimbabwe Republic Police instigated systematic torture to civilians visiting their homes at night'.
The ZCTU also suffered media violence instigated by the government's newspaper 'The Herald'. It published a propaganda story on 4 February 2019 on its front page titled 'Fresh MDC-A , ZCTU plot Exposed' claiming that the ZCTU and its research institute, the LEDRIZ are being used by the Movement for Democratic Change, an opposition party 'to train youths in violence and destabilisation tactics in order to render the country ungovernable and effect regime change'. The article simply mean the ZCTU is a terrorist organisation and so written to cause alarm and despondency to readers to hate the ZCTU. The ZCTU raised its concern with the publishers of the Herald to retract the allegation but was ignored.
We would like to bring your attention to the following constitutional rights that are violated by the government of Zimbabwe. The right to freedom of assembly and association (s58) freedom to demonstrate and petition (59) freedom of expression and freedom of the media (61) access to information (s62) labour rights (s65) and freedom of movement (s66)
Your attention is also drawn to sections 102, of the Labour Act Chapter 28:01 that empowers the Minister to declare what constitutes essential service from which workers are denied the right to strike. The section provides "essential service" means any service—
(a) the interruption of which endangers immediately the life, personal safety or health of the whole or any part of the public; and
(b) that is declared by notice in the Gazette made by the Minister, after consultation with the appropriate advisory council, if any, appointed in terms of section nineteen, to be an essential service;
(3). Any non-essential service may be declared an essential service by the Minister if a strike in a sector, service industry or enterprise persists to the point that the lives, personal safety or health of the whole or part of the population is endangered.
Acting in terms of this section and without consultations, the Minister of Labour through the Labour (Declaration of Essential Services) Regulations, Statutory Instrument 137 of 2003 issued a notice that broadly classified most sectors as essential thereby denying employees in those sectors the right to strike. Furthermore, subsection( 3 )states that any non- essential service may be declared an essential service if a strike persists to the point that lives may be endangered meaning that the Minister yield enormous powers to make such declaration.
Sections 104 of the Labour Act makes it mandatory for workers embarking on strike to give 14 days' written notice, a failure to do so renders the strike illegal, and such workers will not enjoy the right to protest. In 2016, 13 57 workers of the National Railways of Zimbabwe were dismissed after the Labour Court ruled that they did not comply with the set procedures ignoring the fact that the same workers were owed more than US$80 million dollars in salary and allowance arrears for the more than 15 months they have worked (NRZ v Jeremiah Muzangwa and 1357 others copy attached).
Sections 109 of the Labour Act Chapter 28:01 criminalises the so called unlawful collective job action coupled with civil liability. It provides as follows in subsection (2) Any person other than a person referred to in subsection (1) who recommends, advises, encourages, threatens, incites, commands, aids or procures any collective action which is prohibited in terms of subsection (3) of section one hundred and four, with the intention or realising that there is a risk or possibility of bringing about such collective action, shall be guilty of an offence and liable to a fine not exceeding level fourteen or to imprisonment for a period not exceeding five years or to both such fine and such imprisonment. The test referred to in section 3 of the Public Order and Security Act [Chapter 11:17] shall apply to determining whether or not the person whose conduct is in issue realised that there was a risk or possibility that his conduct might bring about the collective action referred to in this subsection'.
In addition subsection ((6) and (7) provides (6) In addition to any penalty that may be imposed under subsection (1) or (2) and without derogation from any other remedy available under any other law—
(a) a responsible person, and every official or office-bearer of the responsible person, and every individual employer or employee who participates in any unlawful collective action; or
(b) a person referred to in subsection (2); as the case may be, shall be jointly and severally liable, at the suit of any injured party, for any injury to or death of a person, loss of or damage to property or other economic loss, including the perishing of goods caused by employees' absence from work, caused by or arising out of or occurring during such collective action. (7) Subject to Part XIX of the Criminal Procedure and Evidence Act [Chapter 9:07], a court which has convicted a person of any offence in terms of subsection (1) that involves any loss, damage, injury or death for which that person is liable in terms of this section shall forthwith award compensation to any person who has suffered personal injury or whose right or interest in property of any description has been lost or diminished as a direct result of the offence.
It is the ZCTU submission that such penalties do not conform to principles of freedom of assembly an association. They are a deterrent to the exercise of the right.
The ZCTU and its affiliates have over the years been victims of abuse of power by the Zimbabwe Republic police that had developed an attitude of banning its protest actions in terms of the Public Order and Security Act (POSA). Despite several Court orders restraining the police from interference in peaceful protest, the police have not relented. Attached are copies of High Court Orders obtained against the Zimbabwe Republic Police that have been wantonly ignored.
The ZCTU request your office to impress upon the government of Zimbabwe to implement the already established principles by the UN that 'Freedom of peaceful assembly is a right and not a privilege and as such its exercise should not be subject to prior authorization by the authorities. State authorities may put in place a system of prior notification, where the objective is to allow State authorities an opportunity to facilitate the exercise of the right, to take measures to protect public safety and/or public order and to protect the rights and freedoms of others. Any notification procedure should not function as a de facto request for authorization or as a basis for content-based regulation. Notification should not be expected for assemblies that do not require prior preparation by State authorities, such as those where only a small number of participants is expected, or where the impact on the public is expected to be minimal. Any notification procedure(s) should not be overly bureaucratic, and should be subject to a proportionality assessment. The notice period should not be unreasonably long, but must allow sufficient time for relevant authorities to prepare appropriately'
Furthermore, Failure to notify authorities of an assembly does not render an assembly unlawful, and consequently should not be used as a basis for dispersing the assembly. Where there has been a failure to properly notify, organizers, community or political leaders should not be subject to criminal or administrative sanctions resulting in fines or imprisonment.
Conclusion
The Special Rapporteur is called upon to make a finding of non-compliance by the Zimbabwe government and call for reform both in law and in practice to ensure Zimbabwean workers and citizens enjoy the right to peaceful protest.