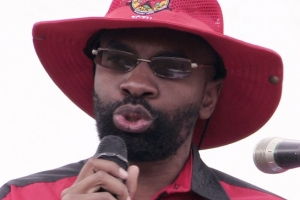 ZIMBABWE CONGRESS OF TRADE UNIONS NATIONAL SAFETY AND HEALTH DAY STATEMENT (JUNE 6)
BY PETER MUTASA
ZCTU PRESIDENT
6/06/2020
Today marks forty -eight years since the Hwange Coal Mine disaster which took the lives of our Dear Brothers and Fathers on the 6th of June 1972. It was exactly at 10.25am when a serious underground explosions at number 2 Kamandama Mine Shaft. It remains the deadliest mine accident in the history of the Mining accidents in Zimbabwe. Because of the continued explosions which poured clouds of poisonous gas into the (4.8 kilometers) of tunnels, it made it difficult to make further rescue attempts and on the 9th of June, the Management of the Mine called off the rescue operations and that left 427 Miners killed and only 8 survived. May Their Dear Souls Rest in Peace till we Meet Again
The Government of the Day set up the Disaster Relief Fund which was a noble idea, however a million dollar question we all need to ask ourselves is whether the surviving spouses are effective beneficiaries or not? We would like to implore to Mine Management not to forget to provide them with Comprehensive Social Protection so that they do not live in abject poverty, our last visit to commemorate this very Sad Day of our lives portrayed a different situation with most of them raising concerns that they were suffering and forgotten about. On seeing the impact the disaster had, the ZCTU at its National Safety and Health Conference in 1992 resolved and declared June 6 as National Safety Day and continues to demand for its being declared a National Holiday.
It is disturbing to note that the Mining Sector continues to record the highest number of accidents in the country and to a greater extent also presenting itself with the highest numbers of those suffering from pneumoconiosis with some contracting occupational illnesses like silicosis and lead as well as mercury poisoning. We are also disappointed that in an independent Zimbabwe, the government ignores the safety violations and general abuse of workers especially by the Chinese employers. We will be following through our demand and agreement at TNF that joint inspections be carried out at all Chinese operations in order to protect workers. Workers can not continue to endure abuses at the hands of Chinese employers. We are
not a colony of China.
It is our hope that Ministry of will also begin to scale up its inspectorate programs complemented by NSSA Business Government and Trade Unions. The current Pandemic on us all, requires that we all adhere to principles of prevention. We would like to warn all employers who are taking advantage of the current challenge to retrench workers that they should desist from doing that, ZCTU will be there to defend all those affected at all costs. The government of Zimbabwe has not done well in responding to this pandemic. Many vulnerable groups have been left on their own without social assistance. The transport arrangement of ZUPCO is exposing many workers to infections for it is inadequate and congested. Again, the screening and testing measures at the workplace were not agreed and we do not agree to use of the Rapid Diagnostic Test because it's not reliable and useful. We are also concerned about the abrogation of such an important national heath matter to private players who may not follow the guidelines in pursuit of profits.
We however implore upon every one not to shun proper testing, and remember to maintain social distancing of 1-2 meters. Let's also wash our hands with soap and use hand sanitizers all the times. The response to the Pandemic should be holistic with all Stakeholders meaningfully involved in the fight against its spread. We are also concerned with the state of quarantine Centers, there is a clear testimony that there are challenges to do with water and sanitation in some cases, that in itself makes it difficult to flatten the curve.
In conclusion, we are as Global Unions calling for the declaration of COVID-19 as an Occupational Disease to enable all those who are employed as front-line health workers and others access compensation in the event of contracting it.
I thank you.
Shinga Mushandi! Shinga!
Qina! Sisbenzi Qina!