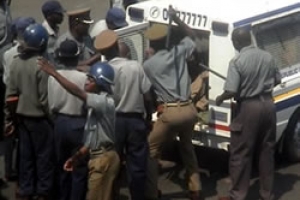 REMEMBERING SEPTEMBER 13 2006: POLICE BRUTALITY AGAINST TRADE UNIONISTS
The Zimbabwe Congress of Trade Unions (ZCTU) joins fellow trade unionists in Zimbabwe to remember the brutal reaction by government to the ZCTU National protest on 13 September 2006.
On the day, 226 workers were arrested country wide when government unleashed Anti- riot squad, and the militia (Zanu PF youths) to violently stop workers from carrying out a peaceful demonstration to show government that workers were suffering.
In a move reminiscent of the malevolence of the pre Independence and apartheid era, the government through use of its security agents, became an instigator of violence in a bid to instill fear among Zimbabweans. Sixteen (16) ZCTU leaders were detained at Matapi Police Station holding cells, which were condemned as unfit for human habitation by the Supreme Court. The police went on to brutally batter the ZCTU leadership.
Besides the above, a number of citizens were beaten up and some suffered severe injuries. Some have now died because of these injuries.
We are once again have seen the ugly head of state brutality manifesting itself in recent years with the so-called New Dispensation shooting at point blank range innocent and unarmed citizens demonstrating against government policies. The ZCTU would like to urge workers not to be intimidated by the use of force by government to suppress the feelings of people. Denying workers their constitutionally ingrained rights of freedom of association and expression will only serve to agitate workers more and prepare them for a direct and sustained confrontation with the masters of oppression and exploitation.
The ZCTU will always demand justices to those who were injured or killed for the right to express themselves as well as defending the rights of workers. We say you are the heroes of today and we salute you.
ISSUED BY THE ZCTU INFORMATION DEPARTMENT
13 September 2021