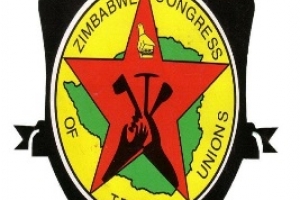 20 May 2020
PRESS RELEASE
RE: ZCTU Condemns the attack of ARTUZ  leader
Barely a week after the kidnapping and torture of three female  opposition activists by suspected state agents, the Zimbabwe Congress of Trade Unions (ZCTU) has received with sadness the assault of yet again another female activist.
Reports indicate that men clad in army uniform assaulted the Amalgamated Rural Teachers Union of Zimbabwe (ARTUZ) National Secretary for Gender and Welfare, Moreblessing Nyambara, on Saturday 16 May at night in Domboshava after accused her of inciting violence after she released a video in solidarity with the three MDC Alliance women who were abducted and sexually harassed last week.
Moreblessing Nyambara was heavily beaten all over the body. A medical report shows that she sustained serious injuries on her right arm and left angle, her tooth is shaking and her spectacles were also destroyed during the assault.
The ZCTU is outraged at the rise of violence against women activists which we believe are meant to intimidate them from participating in national affairs.
We unreservedly condemn the  harassment and once again call for protection of citizens from any form of violence.
It is unfortunate and disgusting that women are being targeted during the current wave of violence by political cowards.
It is also disturbing that state institutions, like the Gender Commission, that are supposed to be at the forefront of fighting against women abuse have remained mum.
Japhet Moyo
SECRETARY GENERAL