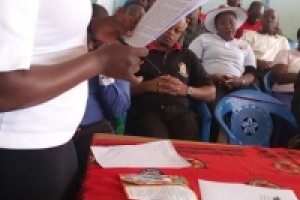 ZIMBABWE CONGRESS OF TRADE UNIONS
NATIONAL SAFETY AND HEALTH    DAY   at Work
(JUNE 6) COMMEMORATIONS
BY
Ms F. Taruvinga ( 1st Vice President)
Salutation
The Zimbabwe   Congress   of Trade Unions, with the rest of fellow Zimbabweans observes the day when 427 miners died at Hwange Kamandama Mine Shaft number 2. We commemorate this event under "The future of Work: Redefining Occupational Safety and Health at the workplace."   
We also   gather at a time when we are all in grief as a Nation following the death of more than three hundred people who became   victims of Tropical Cyclone IDAI, whilst more others remain unaccounted.  
This   year's theme resonates well particularly against a background of unknown future safety and health at work challenges. The multimillion-dollar question we all need to ask ourselves concerns what the present and future of work holds for occupational safety and health. What Iam sure of, so is everyone concerns the rapid   technological advancement which is slowly affecting the world of work. Digitalization, robotics, and the use of nanotechnology, among others, have revolutionized the workplace but have simultaneously raised serious OSH concerns. As we are not able to predict exactly what type of technology will exist in the future, how it will be integrated into the world of work, and what impacts – positive or negative – this will have on OSH.
Air pollution from coal mining, for example, has negatively impacted on the health of miners, but also indirectly affecting workers' health in other industries/Communities around, as well as the general public.
Now that the TNF ACT is in place, we all need to take advantage of the platform and push for effective legislation that governs OSH at the workplace and beyond. We are disappointed as Labour  over the delay in coming up with a harmonized OSH Act which has been under discussion for a long period now almost twenty years without a clear indication when it is will come to its finality.  
Master of Ceremony our safety performance is not pleasing at all we have continued to record very high accident statistics both in terms of injuries and fatalities. It is even embarrassing to note that occupational diseases remain seriously under reported.  
The period   2017 to 2018 the Country recorded 10 972 occupational injuries   and 135 fatalities   these translated to an average lost time injury frequency rate of 3 and   4.02   respectively.   According to the Statistics cited   Harare was the highest with 2 623 serious injuries and 16 fatalities in 2018 whereas in 2017 it recorded 2 176 and 16 fatalities   followed by Bulawayo which recorded 1 494 injuries and 12 fatalities in 2018 whilst in 2017 it had 1291 and 14 fatalities.  The current year 2019  to  date, you will all agree with us the figures are quite alarming.
The Statistics, I have stated above, miming lags behind interms effective capturing of data on the actual figures of mine accidents serve to note that they are mostly reported through the media. Our visit to the Ministry of mines revealed that it was still putting in place a data reporting mechanism. What it entails is that there is a lot of under reporting of mining accidents and illnesses.
This is clear testimony that as a Country we are still far from effective implementation of sound occupational safety and health management systems.  
Labour, will continue to exercise our constitutional rights to protest against all forms of exploitation including matters related to occupational safety and health. 
Workers have become workplace victims, Unions in trying to assist have always met up with resistance, and more so, against the background of a Country that is calling for more investors some of whom are not interested in the promotion of occupational safety and health at the workplace.   We wish to register our displeasure with the manner our compatriots are being abused in a number of Chinese Operations.
We kindly call upon your Ministry to immediately institute inspections and correct the situation.
More and More workers are now subjected to Psychosocial hazards how does one expect workers who are finding it hard to make ends meet   because of the current cost of living? It is obvious that by end of the year the workplace injuries and fatalities as well as diseases will continue to rise. 
The future of work: Redefining occupational Safety and Health at the workplace needs   us working together as Social Partners, as well as observance of the seven golden rules.  We urge NSSA to set aside a budget allocation for Organised Labour to carry out OSH Campaigns.  
I thank you