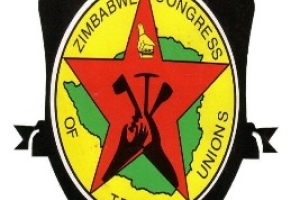 25 May 2020
PRESS RELEASE
RE: Zimbabwe Dollar Collapse hits workers hard
The Zimbabwe Congress of Trade Unions (ZCTU) is alarmed with the continously losing of value of the local currency thereby seriously eroding the value of workers wages and salaries on a daily basis.
At the time of issuing this statement,  the Zimbabwean dollar was trading at US$1 to Z$75. The official rate is US$1 to Z$25. It is inconceivable that just a few weeks ago the Zimbabwean dollar was pegged at par to the United States dollar.
Zimbabweans may recall the ZCTU  position at the beginning of the year when we proposed at the  Tripartite Negotiating Forum (TNF) that Zimbabwe should be considering adopting the Rand. However the government pleaded for time to work on the economy for six months in order to stabilise the currency.
However it is clear that after being granted this time period, the government has dismally failed considering the rate at which the Zimbabwean dollar is crashing down against major currencies.
It is also clear that the national minimum wage set at ZWL$2 500.00 in February to compensate for the eroded wages has again been made a mockery as the exchange rate continue to rise, rendering wages and salaries meaningless.
The ZCTU also notes with concern that the moratorium in prices that was announced by government amidst fanfare was a ruse because business refused to abide by the moratorium and continues to hike prices.
Businesses are the beneficiaries of the current chaos and do not care whether we are using US$ or Z$ because they pass every cost to the consumer everytime the local currency losses its value.
It is also unfortunate that the TNF Principals meeting has been postponed twice when the economy continues to take a knock. This is where these issues  to be discussed urgently.
The ZCTU reiterates its earlier position that as long as the economic fundamentals are not addressed, the Zimbabwean dollar will remain under pressure and it will not work. The only option out is to  remunerate workers in US$ or that the country adopt the Rand as its currency.
It is also high time government swallows its pride and stop hiding behind the sovereignty rhetoric and adopt a stable currency.
Before the current lockdown, the ZCTU had been given a mandate by workers and citizens to mobilise workers and citizens for collective action for a living wage as well as improved economic conditions.  If the next TNF meeting fails to materialise,  we have no choice than organise and mobilise them for such an action.
Japhet Moyo
SECRETARY GENERAL